Forget first class travel. There's a new, affordable smart class that has reduced the nuisance of travel and enhanced the fun by squeezing the travel experience into your iphone with a wide range of apps. With Greece in your pocket, travelling through its winding streets and exploring its hidden enclaves has never been smoother or cheaper. No need for calls, questions and queues – your smartphone now does your work for you.
1.Google Translate
Is it all Greek to you? This translator can be a useful tool by quickly translating day-to-day words you come across in Greece and beyond. Just hold your camera up to a text – such as a sign, or a menu – and Google will translate it for you instantly. It's an essential app for any traveller.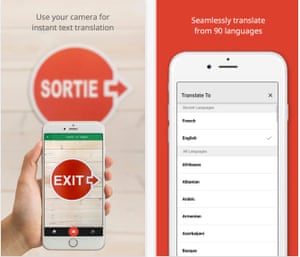 2. Google Maps
Google Maps, one of the best navigation apps, are an obvious starting place when exploring Greece. Travellers can download
maps
of areas they'll be exploring and find Greek tourist attractions so that they'll always have a GPS map in their pocket to help them find their way home – even when they are offline.
3. Taxibeat
Greek cabbies are known as the "yellow peril", with travellers having to enter the back seat of Greek taxis at their own risk. Now, a free Greek app leaves the experience less to chance and more to choice. It locates your position using GPS and allows you to choose an available driver from among those who are in the vicinity. Choose from driver profiles  based on votes and comments from other customers who rate them on politeness, cleanliness and overall performance. Those who are fluent in English or keep a smoke-free cab, mention it on their profiles. If you see many stars next to a profile picture, it means the driver has been approved by others and that you're in good hands.
4. Athens Airport App
The official Athens Airport App is useful for checking your flight status, arrivals and departures, as well as any information that has to do with the Greek airport from special shopping offers, regulations and weather info.
5.OASA Telematics
No waiting in vain for Greek trolleys and buses lagging behind due to traffic conditions. Greek public transport has become a lot more user-friendly thanks to this app that pinpoints your location, shows you nearby bus stops, buses and their routes while also giving live updates in real time that show exactly where the bus you are waiting for is located as well as its estimated arrival time. Another option for live bus info is Moovit.
6. TfA Tickets
Greek public transport tickets are available at special selling points and kiosks. For this reason, travellers have often been placed in an awkward situation seeking for tickets from fellow travellers. This snazzy app saves the day by allowing travellers to buy tickets via credit card using the TfA mobile app that you can validate once you get to the platform. Purchase tickets in advance by downloading the free Greek app. Sign up by entering your credit card details and activating your account before you board the bus or metro.
7. Amazing Athens
A guide to the historic city of Athens that was developed in partnership with the Hellenic Ministry of Tourism. The application features a rich collection of information, comprehensively covering Athens' most popular sites and attractions. It includes sites & venues guide with over 120 places, covering all aspects of the city from historical and cultural sites, the best places to shop and eat out as well as beaches and nearby short trips. Easy to navigate, there is an offline map with live distances to find your way around Athens like a local. There is no need for WiFi or a data plan. You can also get directions via a live map by connecting to one of the many free WiFi hotspots in Athens. The app is a personal tour guide with walking tours and info on monuments. as well as customs regulations, medical and emergency services, embassies, etc.
8. Triposo
There is no longer a need to tow around a Lonely Planet or Frommers guide. Your phone and the Triposo app is all you need. The free app offers city guides for over 100 cities in Greece, including Athens, Corfu and Delphi. Each travel guide has a sightseeing section with major monuments.  Info on cuisine, pubs and nightlife as well as an offline map of Greece and offline city maps for all major cities.  The phrasebook offers useful Greek phrases.
9.GPS My City Guides
A tour guide in your pocket offers walks around Athens, Mykonos, Rhodes, Crete, etc. * Walk Around the Acropolis (8 sights) * Plaka Attractions (11 sights) * The National Garden Tour (12 sights) * Vassilissis Sofias Avenue (7 sights) * Athens for Children Tour (5 sights) * Walk in Exarcheia District (11 sights) * Exploring Ancient Athens (14 sights) * Athenian Museums Tour (6 sights) * Plaka Specialty Shops (8 sights) * Antiques Hunting Tour 1 (13 sights) * Kolonaki Antique Shops (5 sights) * Monastiraki Gift Shops (10 sights) * Souvenir Shopping (7 sights) * City Center Nightlife (12 sights). All the data used in this app is built into the software, so no need for internet access or cellular data plan. Download the Lite version if you want to use the city map or learn about the walking tours. However, if you want to join the walk, it is highly recommended that you download the Full Version of this app. The Full Version includes detailed tour route maps and turn-by-turn directions to guide you from one sight to the next.
10. Foodies app
Foursquare is an app to help your palates travel with the best Greek food. Reviews are left by locals and visitors are like. The app can be used to locate cafes, restaurants and snack bars. Visitors can find a meal according to their location, time of day or price. There are also photos included by locals to whet your appetite.
11. e-table
Free online restaurant reservations can be made at 1,700 restaurants in 24 cities in English. Type in your location and all the restaurant and delivery options in your vicinity are just a click away. Check what is open, browse menus, read photos and reviews from other users, check out delivery times and cave in to your late-night snack attack 24/7. There are reviews, suggestions and priveleges and discounts available to members.
12.Book a Babysitter app
The app matches available babysitters vetted by other parents with families. The babysitters on the site have all passed health exams and have first aid certificates. A number of the babysitters on the site speak English.
13. Sun lounge travel app
High expectations for a relaxing day by the beach can vanish in the sun as you scuffle back and forth in the hot sand searching for that sun lounge under a shady beach umbrella with a splendid view of the sea. And just as you eye it, someone faster than you snatches it from under your nose. Dirty looks are exchanged, or maybe a nasty word or two…You walk away, waiting for your day in the sun to arrive. Well, wait no more, because Plazz has designed an application just for you. The goal is to enhance your beach-going experience by allowing you to reserve a sun lounge in advance. Launched in the summer of 2015, it premiered at swanky Astir Beach to provide a unique customized experience for clientele. The service caught on and has grown to include locations in Crete, Corfu, Naxos, Santorini, Zakynthos and other islands.
14. Vodafone app
A free Vodafone app loaded with the best things to do in Greece includes a list of best destinations in both summer and winter. Visitors can brush up on their history ad mythology. Check out what is on during your trip. The handy Athens guide also includes special promotions for Vodafone customers.
15. Grindr
Greeks, once famous for their kamaki (chatting-up) practices, are now leaving their classical techniques behind them and progressing to high-tech flirting with Grindr. The geosocial networking that runs on iOS, Android, BlackBerry OS devices was initially geared towards the gay and bisexual community but straight versions of the applications are becoming popular amongst the Greek set.